Janina Baechle kehrt mit ihrem Rollendebut als Filipjewna in Eugen Onegin an die Wiener Staatsoper zurück. Unter der Leitung von Patrick Lange singen Maltman, Breslik, Beszmertna, Gritskova am 6./9./13. Mai 2017.
Janina Baechle returns to the Vienna State Opera in her role debut as Filipjewna in Ewgenij Onegin. Conducted by Patrick Lange she sings alongside Maltman, Breslik, Bezmertna, Gritskova on May 6/9/13
Janina Baechle springt kurzfristig für Gustav Mahlers "Kindertotenlieder" mit dem Bayerischen Rundfunksymphonieorchester und Maestro Mariss Jansons ein: Konzerte in Wroclav und Katowice am 2. und 3. Februar 2017, sowie im Concertgebouw Amsterdam am 7.Februar 2017.
Janina Baechle joins BRSymphonieorchester and Mariss Jansons for Gustav Mahlers "Kindertotenlieder" in Wroclav and Katowice on February 2 and 3, as well as at the Concertgebouw Amsterdam on February 7th.
_________________
Die DVD des Wiener Hänsel und Gretel dirigiert von Christian Thielemann mit Janina Baechle als Mutter (Tonca/Sindram/Eröd/Schuster) ist am 30 September erschienen.

_________________
Elgar / The Dream of Gerontius / June 15, 2015
Three Choirs Festival Chorus, Nordwestdeutsche Philharmonie/Frank Beermann
Alfred-Fischer-Halle, Hamm, 13.6.2015
The Three Choirs Festival Chorus Takes The Dream of Gerontius Back to Germany
(…)also making her role debut was mezzo-soprano Janina Baechle. I've heard her before as one of the soloists in Jonathan Nott's very good recording of Mahler's Eighth (review). Earlier this year she sang Wagner with Sir Simon Rattle. She has an impressive CV and it was not hard to hear why. She brought a rich, lustrous voice to the role of The Angel and she also demonstrated a fine degree of identification with the role. Hers was an impressive performance by any standards, committed and involving. I understand that this is a role she has long wanted to sing; I hope she will be given further opportunities to do so.
Seen and Heard International
(…)Hingegen beeindruckte Janina Baechle, langjähriges Mitglied der Wiener Staatsoper, in der Rolle des Engels. Sie meisterte den grossen Stimmumfang der Partie mit angenehmen Timbre von lange gehaltenen recht tiefen Tönen bis zu strahlenden Spitzentönen. Grosse p-Kultur zeigte sie etwa bei "There was a mortal", wo ein Sterblicher die Wundmale Christi erleidet, und zum Ende, wo sie in einer Art Arie "legatissimo" und "dolcissimo", wie Elgar vorschreibt, von der Seele Abschied nimmt schliessend mit einem fast gehauchten aber bis zur 29. Reihe, wo der Verfasser saß, hörbaren "Farewell" Auch war sie, soweit möglich, textverständlich.
Der Neue Merker / 15. Juni 2015
_________________
Wagner / Rheingold / Symphonieorchester des Bayerischen Rundfunks / Sir Simon Rattle / Herkulessaal / 25. April 2015
"Wunderbar war Janina Baechle anzuhören, die der Erda mit profunder Altstimme hohe Autorität verlieh. Die Worte "Meide den Ring" hat man noch nie derart leise und verhalten gehört, was die Warnung der Urmutter noch intensivierte."
http://www.deropernfreund.de/sonstige-13.html
"Finally one of my highlights was Janina Baechle as Erda. With her really short appearance she was still able to capture the whole audience with her strong but still delicate mezzo voice. She was so mysterious and wondrous that one was barely able to breath because of excitement.She sang her phrases incredibly gently and especially her soft pianissimo on the final "Meide den Ring" was exceptional!! Seriously, what a voice!!"
http://operaticmusicologist.blogspot.co.at/2015/05/richard-wagner-rheingold.html
_________________
Mahler / Lied von der Erde / Stuttgarter Philharmoniker / Gabriel Feltz / März 2015
"Janina Baechle zeigt ihr ganzes sängerisches Potential, ob es nun geheimnisvolles Raunen in der Tiefe, dramatische große Intervallsprünge oder strahlende Höhen sind."
Werner Ziegler / Mainz Netz
"Ihr subtil geführter Mezzosopran modelliert die Melancholie des "Einsamen im Herbst" mit großem Einfühlungsvermögen. Das symbolhafte Tableau des Gedichtes "Von der Schönheit" malt sie mit einer Fülle farbiger Nuancen, und der "Abschied" ist von Anfang bis Ende in wunderbar ausdrucksvolle vokale Linien gespannt. Janina Baechle riskiert dabei durch höchst differenzierte Tongebung auch einige Intonationsschwankungen, doch das schmälert die interpretatorische Tiefe dieser Sängerin keineswegs."
Dietholf Zerweck / Esslinger Zeitung
_________________
Die Walküre / Canadian Opera Company, Toronto / Februar 2015
The New York Times (Anthony Tommassini):
The rich-voiced mezzo-soprano Janina Baechle was engrossingly persuasive as Fricka.
Opera going Toronto (Ian Ritchie):
Mezzo Janina Baechle is a stormy Fricka, seething and thunderous.
schmopera.com – Opera from another angle:
As Fricka, Wotan's wife, Janina Baechle was fantastic. She had a voice to match her strong presence, and I believed that she could convince Wotan to change his mind.
__________________
Erda-Szene aus Rheingold – Symphonieorchester des Bayerischen Rundfunks / Sir Simon Rattle
Aufgenommen am 24. April 2015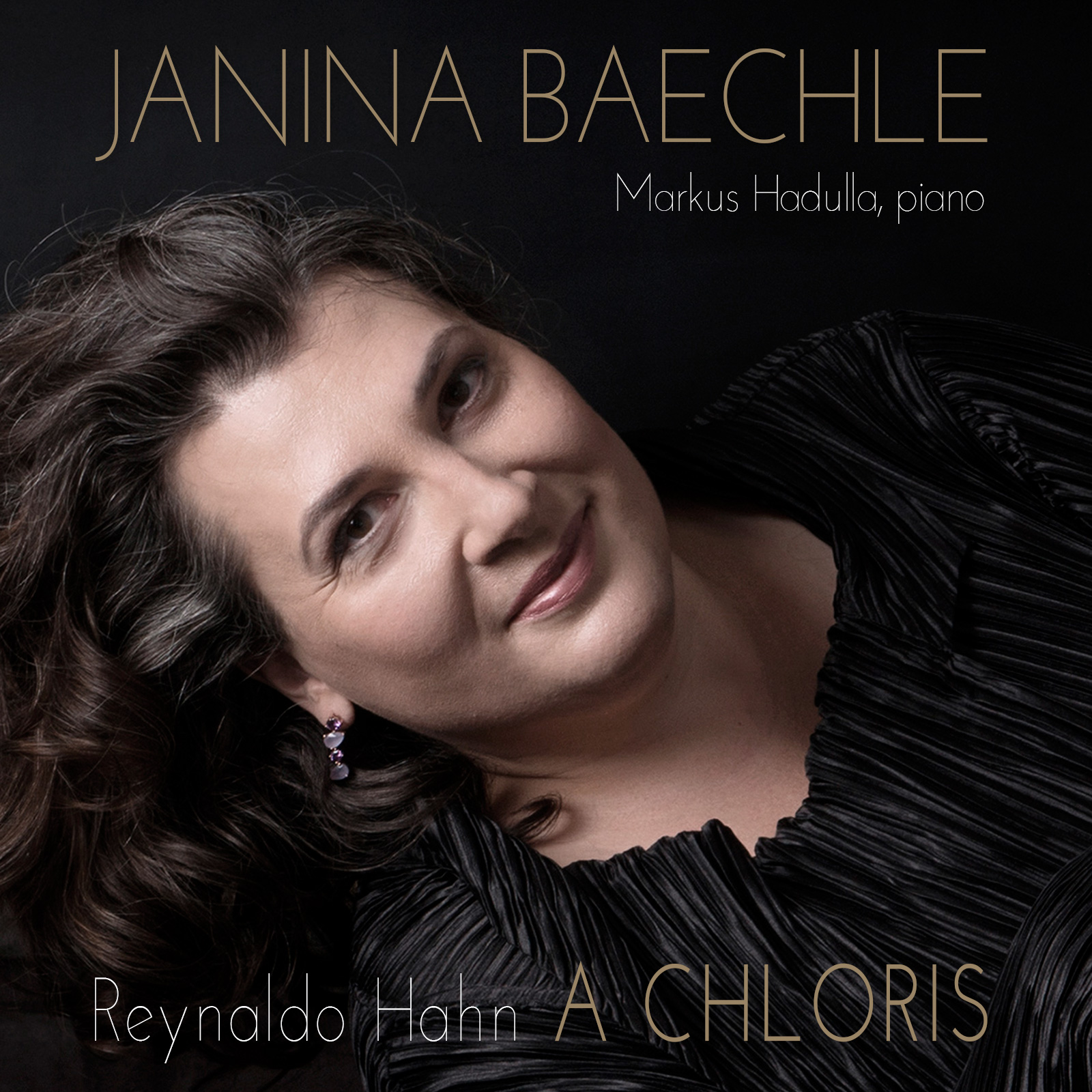 Reynaldo Hahn – A Chloris (in iTunes kaufen)